Find-out from Case and Applications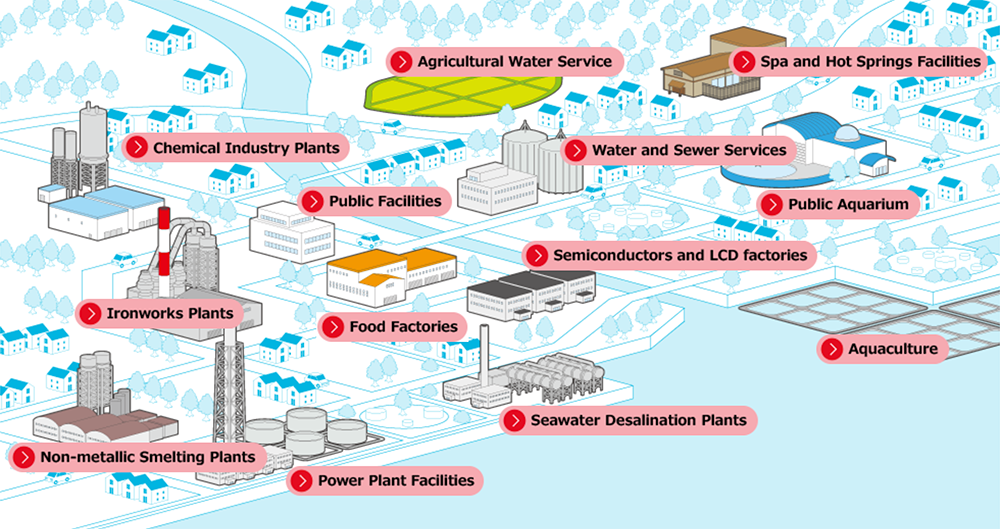 Chemical Industry・Ironworks Plants・Non-Metallic Smelting plants・Public Facilities・Food Factories・Power plant Facilities
Agricultural Water Service・Water and Sewer Service・Semiconductors and LCD factories・Seawater Desalination Plant
Spa and Hot Springs Facilities・Public Aquarium・Aquaculture
Chemical Industry
Anticorrosive specifications are prescribed for use in the chemical industry where strong acids and alkalis are handled, and, our original EL specifications* are prescribed when special raw materials require more stringent conditions.

*Electrolysis
Ironworks Plants
| | |
| --- | --- |
| In an environment where there is corrosive mist such as a line for acid-washing steel, not only the flow path for liquid chemicals but other areas, including external surfaces, must also have high anticorrosive performance and operational reliability. | |
Non-Metallic Smelting plants
| | |
| --- | --- |
| In metal smelting processes for underground resources, a high resistance to corrosion from chemical solutions such as strong acids and strong alkalis is required. | |
Public Facilities
| | |
| --- | --- |
| Due to the high durability of plastics, they are utilized as pipes and valves for chemical supply, water treatment and wasted water treatment system. | |
Food Factories
Food Factoris require plastic valve, pipe and fittigs for their own facilities.

They are utilized as oil free plastic valve and piping for drinking water,etc.
Power plant Facilities
Plastic valve enable excellent corrosion resistance against sea water an sea circumstances.




For water intake process for cooling pipe line, Plastic Valve will be suitable to install into the service instead of metal valve.
Agricultural Water Service
| | |
| --- | --- |
| Due to the high durability of plastics, they are utilized as pipes and check valves for irrigation, air release valves, and automatic water supply hydrants for rice paddies and crop fields. | |
Water and Sewer Service
These systems are used in liquid chemical lines for sterilization treatment.

They require high precision and high durability.
Semiconductors and LCD factories
In manufacturing processes for semiconductors and LCD panels,
high anticorrosiveness against liquid chemicals and precise flow control performance are required.
Seawater Desalination Plant
| | |
| --- | --- |
| Plastic valve enable excellent corrosion resistance against sea water an sea circumstances. They require high precision and high durability. | |
Spa and Hot Springs Facilities
| | |
| --- | --- |
| Spa and Hotspring facilities require high corrosion resistance materials for hot water supply and high durability. | |
Public Aquarium
| | |
| --- | --- |
| Plastic valves and pipes that do not discharge metal ions which disturb fish and other aquatic life, and are not corroded by seawater are indispensable apparatuses in aquariums. | |
Aquaculture
| | |
| --- | --- |
| Due to the anticorrosiveness against seawater and longterm stability of operation, our piping material products are used in farming equipment for fish, oysters, etc. | |